Do you have reason to celebrate as we say goodbye to 2014? Encouraged about 2015? According to data released this month by the American Staffing Association U.S. staffing companies employed an average of 3.26 million temporary and contract workers per week in the third quarter of 2014, up 6.1% from the same period a year ago.
"Staffing industry employment has returned to pre-recession levels as businesses continue to increase the size of their flexible and permanent workforces in response to sustained increases in demand for their products and services," said Richard Wahlquist, ASA president and chief executive officer.
The ASA says in a quarter-to-quarter comparison, staffing industry employment was up 3.6% from the second quarter to the third quarter of this year, adding an average of more than 113,300 workers per week.
Temporary and contract staffing sales were 6.2% higher in the third quarter of 2014 compared with the same period last year, totaling $29.45 billion. Third quarter sales were 2.1% higher than in the second quarter of 2014.
Staffing Employee Survey
The ASA also conducted their annual survey this year with nearly 12,000 current and former temporary and contract employees who worked for 275 different staffing firms.
Staffing workers, 76% of whom work full-time, about the same as the overall U.S. labor force, predictably say they have many motivations for choosing temporary or contract work.
The most common reason, cited by one-half (49%) of the survey respondents, is that "It's a way to get a permanent job."
Nearly 90% of temporary and contract employees say that staffing work made them more employable.
One-half (49%) say that staffing employment helped them get their foot in the door for a permanent job.
One-third (34%) of temporary and contract employees were offered permanent positions by a client firm where they had worked on assignment—two-thirds (66%) of those accepted the offers of employment.
One in five respondents (22%) said the reason for choosing temporary or contract employment was for schedule flexibility.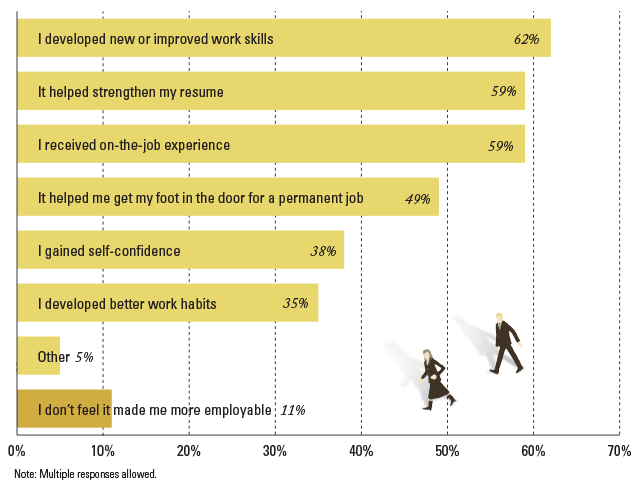 Whether they were aiming for a permanent job or seeking flexibility, staffing employees gave overwhelmingly positive ratings about their experience.
Nine out of 10 temporary and contract employees surveyed say they were satisfied with their staffing company, with 74% being very or extremely satisfied.
Overall, the ASA says these latest results are almost identical to the results of the 2006 survey, which was conducted as the staffing industry was approaching its pre-recession peak.
In the most recent survey, there was a slight increase in the proportion of employees who turned to staffing firms out of need for work, as well as a modest decline in the preference for flexibility.
However, altogether the results of both surveys suggest remarkable stability in positive attitudes and experiences among America's temporary and contract employees.
On that note, Happy New Year and Best Wishes for a productive and prosperous 2015.